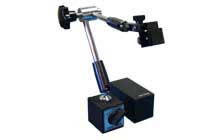 To support large number of oscilloscope and digital microscope users with a versatile holder without the need for xyz-stage, far-reaching UH50 is designed for ease of use with the highest quality; at the same time, it offers the most competitive price in the industry.
Specifications
Articulated arm: 3 links and 3 joints controlled by a single thumb knob
Arm Length: 380 mm/15 in
Base with On/Off Magnetic Lock
Base Size: 62 mm x 55 mm x 50 mm (2.45" L x 2.2" H x 2" W)
Weight: 1.7 kg/4.8 lbs
Adapter: UA18 with 6 - 18 mm opening
Part Number: UH50-UA18
UH50 for Dino-Lite Microscope
Adapter: HDM1
Part Number: UH50-HDM1
Steel Base (for anchoring on regular surface)
Size: 100 mm L x 55 mm H x 50 mm W (4" L x 2.2" H x 2" W)
Weight: 2.15 kg/4.75 lbs
Part Number: MB10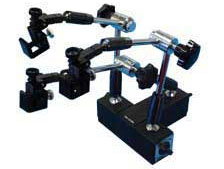 Multiple UH50s can fit
in a tight space
---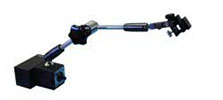 UH50 supports long-reaching arm
for versatile probing
---
Highlights
Flexible long-reach arm controlled by a single thumb knob
Small lockable magnetic base for easy and steady set up
Suitable for large and small, horizontal and vertical PCB testing
A separate steel base with rubber bottom can be easily combined with multiple UH50s to hold multimple probes and digital microscope in tight probing environment
The magnetic base in its LOCK position has strong force to support UH50 attaching to the side of a steel surface.
A special holster (HDM1) can be ordered to hold Dino-Lite handheld microscope
Sturdy and most price competitive in the industry
Availability: now
Multiple Adapters to Hold Probes, Cables, and Digital Microscopes
To engineers looking for a sturdy, versatile and low cost holder to keep solder-type probe cables steady or hold a digital microscope in any location pointing to any direction, the innnovative UH50 is an ideal solution.
UH50 is a helping hand to hold anything in a test environment. 
Caution: Due to its strength, UH50 is not recommended to hold probe directly as it may accidentally damage the probe tips or DUT. 
Part Numbers
UH50-UA18: UH50 Flex Holder, including an adapter with 6 -18 mm opening
UH50-HDM1: UH50 Flex Holder, including an adapter for Dino-Lite handheld microscope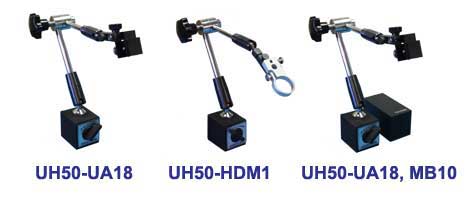 UH50 Demonstrations
Two UH50s holding Tektronix solder-type probes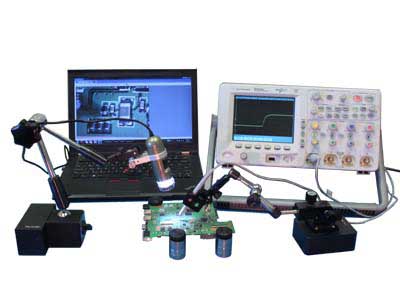 UH50 holding a microscope to support high-speed probing
UH50 and Digital Microscope demo video