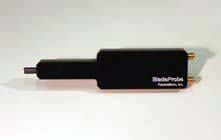 The TDP BladeProbe enables fast and convenient TDR measurements and debugging. The BladeProbe tips are made from strong and rigid beryllium copper blades for handheld and probe station probing. The passive probe can be used to measure impedance, clock jitters, and skews. The TDP BladeProbe series can be connected to TDR, high performance scopes, and vector network analyzers.
Specifications
Passive
Frequency: DC – 18 GHz
2-Pin (in SS config) Differential Probes
Differential Impedance: 100 ohm (typical)
Reflected TDR Rise Time: < 20 ps
Probe-only Propagation Delay: < 1.0 ns
Dimension: 142 mm (l) x 33 mm (w)
Connector: SMA female
Probe Pitches: 1.0 mm/0.8 mm/0.5 mm
Customized probe pitch: Contact us.
Availability: now
TDP BladeProbe Part No. Information
TDP10205 – 0.5 mm/20 mil probe pitch
TDP10208 – 0.8 mm/32 mil probe pitch
TDP10210 – 1.0 mm/40 mil probe pitch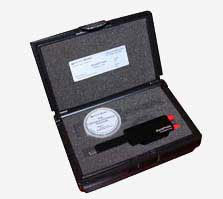 PK100 TDR Probing Kit
Helpful links
Highlights
Time Domain Reflectometry (TDR) probing without connectors or the need of soldering SMA cables and the risk of damaging the fine copper pads of the circuit boards
Get connectivity to circuit boards and devices without connectors
Shorten design cycles: characterize differential impedances including return and insertion losses.
Reduce the risks of damaging the copper pads on circuit boards: There is no need to solder SMA cables.
View PacketMicro TDP TDR Probe datasheet.
PK100 TDR Probing Kit
To help customers gain access to both high quality TDR probe and accurate and confident TDR measurement, PacketMicro offers a TDR probing kit with one TDP102xx differential TDR probe and one TCS10 calibration substrate at a discounted price of $700. 
TDR Probe Demonstrations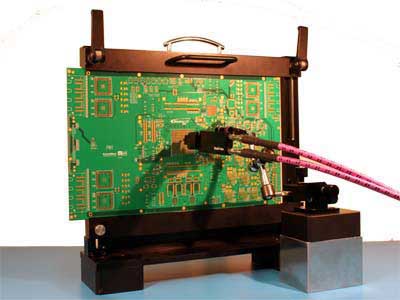 TDR Probe in vertical probing orientation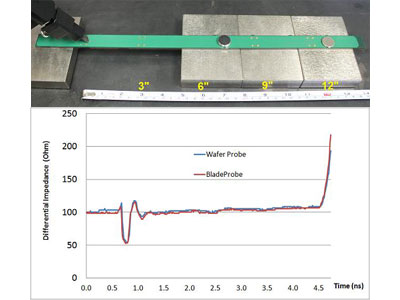 TDR probing with FP160 and TDR probe