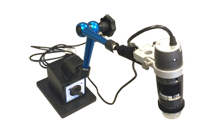 A digital or traditional optical microscope can help engineers check on their high-speed probing activities much more easily. It will assure the probe tips will touch on the right contact(s), with correct contact angle and right amount of force. We use both digital and optical microscopes in our own lab. The information in this page is to help you choose a microscope best suits you.
Optical Microscopes
Traditional optical microscopes offer a better visibility on probing small circuit. It offers several benefits over digital microscopes and at the same time it has some serious limitations: 
Benefits:
Longer working distance
Choices on eye-pieces
Option to add digital camera
More steady in use
You may consider this boom stand microscope for your lab. Remember to consider ring LED light for illuminating the circuit.
Limitations:
Heavy, not very portable
Much larger than a digital microscope
Limit on smaller circuit such as die, chip-scale-package, smaller PCB
Digital Microscopes
Connects to the USB port of a PC, and displays the result on the screen.
Small size, more portable
Easy to support multiple microscopes
Can shoot video and take still pictures for future review and demo
Considerations: Resolution, build quality, software, long working distance, size, price
PacketMicro is an authorized reseller of Dino-Lite microscopes and accessories.
Dino-Lite long working distance (LWD) digital microscopes sold by PacketMicro:
AM4113ZTL: 1.3 MP resolution, LWD with polarizer, 10x~90x. Price: $549
AF4515ZTL: 1.3 MP resolution, LWD with Polarizer, 5x~140x, and AMR (Automatic Magnification Reading). Price: $799
AM5216ZTL: 1280x720 resolution, LWD with polarizer, 5x~140x. Connects to monitor directly through D-Sub/VGA interface. No PC is needed. Price: $699.
AM7115MZTL: 5 MP resolution, LWD in metal case with polarizer, 10x~140x. Price: $1069. Contact us.
Please contact us for other Dino-Lite microscopes or accessories.
For information about Dino-Lite Digital Microscopes, please visit Dino-Lite FAQ
For features about Dino-Lite Digital Microscopes, please visit Dino-Lite Features
To select the right digital microscope for your application, please check the Digital Microscope Selection Guide in the FAQ
---
FP40 Flex Positioner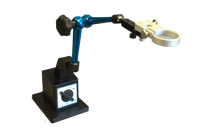 FP40 Flex Positioner with HDM1 adapter is designed specifically for holding Dino-Lite digital microscope at a very competitive price. It is built with magnetic lockable steel base and steel flex arm to hold digital microscopes. FP40 is for engineers who need to put the microscope in a wide range of height and to stay steady during the whole probing process.
FP40 Specifications
Articulated arm: 3 links and 3 joints controlled by a single thumb knob
Arm Length: 300 mm/12 in
Base: 65 mm L x 60 mm H x 70 mm W (2.5" L x 2.3" H x 2.8" W)
Weight: 1.3 kg/3.2 lbs.
Part Number: FP40-HDM1, FP40-UA16
Availability: Now
Metal Base Plate
Size: 120 mm L x 90 mm H x 10 mm W (4" L x 2.2" H x 2" W)
Weight: 0.8 kg/1.75 lbs.
FP40-HDM1 Price: $400 each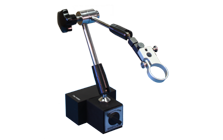 Highlights
Multiple-arm configuration
Articulated arm controlled by a single thumb knob
Various changeable adapters
Long-reach arm (300 mm / 12")
Base with on-off magnetic switch and base plate with rubber bottom for stability
Microscope Demonstrations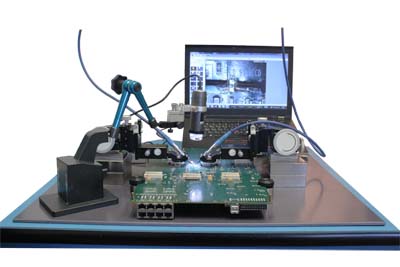 PCB probing using Digital Microscope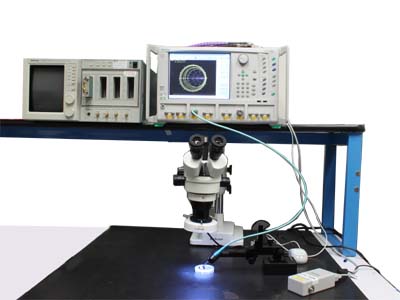 PCB probing using Optical Microscopes
Dino-Lite Microscope demo video