High-performance rugged probes for RF and SI probing 
PacketMicro offers a family of single-ended and differential probes that are much stronger than microprobes. With performance at up to 20 and 18 GHz, they have comparable measured S-parameter result at lower prices. 
Highlights
Quality, precision, performance, ruggedness
Symmetrical (no separate GS and SG configurations)
Good for bare and stuffed boards and boards with solder bumps
Work with PacketMicro TP60 and TP300 (with adapter) positioners
Most price competitive in the industry
Availability: now
---
S-Probe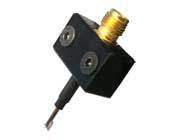 Rugged single-ended probe for RF, signal integrity and PI testing.
Constant shrinking size of circuit components makes soldering semi-rigid RF cables to test GHz circuits impractical. The rugged S-Probe and its TCS60 calibration substrate allow engineers to perform probe-tip calibration for accurate, repetitive measurements. Its strong beryllium copper (BeCu) tips is perfect for direct probing of solder pads and circuit components.
D-Probe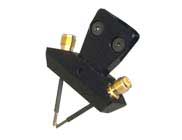 The stackable holders with steel structure and magnetic base hold PCB steadily at various height.
With only two signal pins, D-Probes can perform accurate measurements without the need of nearby ground pads. Recent advancement in 2X-Thru de-embedding methodology makes the D-Probe ideal for signal-integrity measurements. With de-embedding tools, such as EMStar SFD, SS D-Probes and GSSG microprobes offer comparable accuracy.