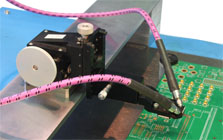 To support the smallest geometry and highest precision for microwave and wafer probing, the compact TP300 Precision Positioner is designed with the most precise components and built with highest quality; at the same time, it offers the most competitive price in the industry. The extra large adjustment screw for y-axis ensures ease of control of the microprobe.
Specifications
Travel Range X, Y & Z: 20 mm with 500 micron/rev
Z-axis coarse adjustment: 8 mm/step (6 steps)
Planarization Rotation: ±10° with 2.5°/rev
Resolution: 5 micron
Weight: 1165 grams/41.1 oz
Probe Holder: Removable microprobe holder
Base: Lockable Magnet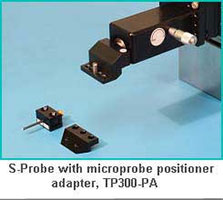 In addition to offering TP300 to hold microprobes, PacketMicro has a special adapter TP300-PA (TP300 Probe Adapter), to hold our rugged S-Probes and D-Probes. (View S-Probe and D-Probe pages.)
The S-Probe, D-Probe and microprobe combination offers engineers the option to use S-Probe or D-Probe (for differential signals) for slower speed probing or probing with components, and reserve the fragile, expensive (and easy to break) microprobes for only the most critical measurements. The price for the adapter is $100 each.
We recommend GGB and Cascade microprobes for accurate S21 measurement of PCB traces.
TP300 Demonstrations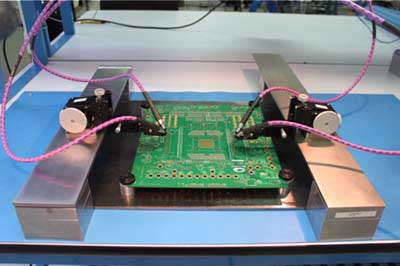 TP300 probing Large PCB probing with TP300 and probing bridge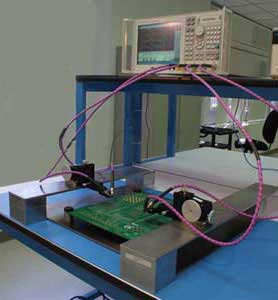 Large PCB probing with TP300, probing bridge and VNA