Holders for Vertical and Horizontal PCB's
PacketMicro offers a family of horizontal and vertical PCB holders for engineers to hold PCB in a desired orientation for steady and easy probing.
The vertical PCB holders make double-sided probing of a PCB easy. With insulated material on the contact surface to the circuit board, the PCB holders support both probing of passive, bare PCB or a powered PCB assembly.
Highlights
Quality, precision, flexibility, performance
Support large and small PCBs
Magnetic bases for ease of use
Easy orientation for your probing tests
Most price competitive in the industry
Part Number: PH100, VPH100
Availability: now
---
Vertical
Vertical holder with quick release mechanism makes mount and dismount of a PCB or module easy.
VPH100 and VPH80 hold or a module vertically for double-sided probing applications. Their upper bar has a quick release mechanism that allows a user to easily mount and dismount a PCB from the holder. By loosening the adjustment screws, the lower bar can move up and down in small steps to set the PCB in the appropriate height for ease of testing.
Horizontal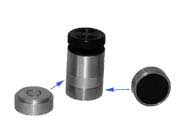 The stackable holders with steel structure and magnetic base hold PCB steadily at various height.
PH100 PCB holder is composed of one screw top with magnetic base and 2 extenders. By placing a PCB with 2 or more PH100 PCB holders and using the extenders to control height, engineers can ensure the PCB under test is steady and the test points are easily accessible by probes.